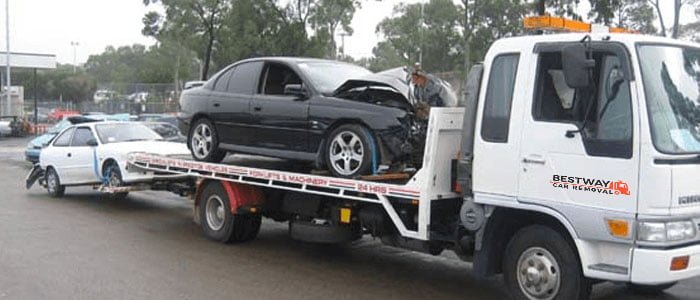 Bestway Car Removal is your one-stop shop for stress-free old car removals in Geelong and the surrounding areas. We recognise that getting rid of an old or unwanted car may be a difficult and time-consuming operation, which is why we provide straightforward and rewarding car removal options. We can assist you if you have a scrap automobile, a damaged car, or an accident vehicle.
Say goodbye to the hassle of old car clutter and hello to the simplicity of Best Way Car Removal! We are the ultimate solution for anyone seeking to dispose of their unwanted cars in Geelong, Ballarat, Colac, and surrounding areas. With our exceptional services, you can finally put an end to the frustration and stress of old car removals.
Why Us?
Best Way Car Removal makes getting rid of your unwanted car simple. You may get a quick cash for cars payment for your old, damaged, scrap, or unwanted car with our no-hassle car removal services, regardless of age, condition, or model.
Say goodbye to old vehicle clutter and take advantage of free removal services that are accessible 24 hours a day, 365 days a year. Whether you require:
Accident Car Removals Scrap Car Disposal Damaged Car Removals.
Commercial Vehicles That Cannot Be Repaired.
Removal of a ute, van, motorcycle, or other vehicle.
Our skilled crew and bespoke removal fleet ensure that your vehicle is removed quickly and safely.
We can provide free removal of any vehicle due to our bespoke unwanted car removal fleet and a team of experts. Because we are a qualified vehicle trader and wrecker, you can be confident that you will get the most money for your trash automobile. It is perfectly OK for you to transport your unwanted vehicle to us yourself. You will not be deprived of your immediate cash payment.
Services We Offer
Bestway Car Removal offers a range of services to meet your needs for old car removal, including:
Scrap car disposal
Damaged car removals
Accident car removals
Irreparable commercial cars
Ute, van, motorcycle or other vehicle removals.
Schedule a pickup time
Scheduling a pickup with Bestway Car Removal is simple. To request an estimate, simply phone us or fill out the online form on our website. We will ask you for some basic information about your vehicle during your call or form submission, such as its make, model, year, condition, and location.
Once we have this information, we will provide you with a quotation for your vehicle and schedule a convenient pickup time for you. Our crew is available 24/7 to meet your needs, so you can count on us to be there when you need us.
Our team will arrive at your place at the scheduled collection time to remove your vehicle. Before we do so, we will inspect it to certify its condition and make a final cash payment to you. We will remove the car from your property and dispose of it in an environmentally appropriate manner once the inspection is completed.
Unwanted Car Removal with Strong Green Credentials
Best Way Car Removal is aware of the environmental impact that car disposal can have. That is why we make it a priority to provide environmentally friendly car removal services to our customers in Geelong, Ballarat, Colac, and the surrounding areas.
Our professional dismantlers take great care to recycle, repurpose and resell any salvageable parts or materials, thereby lowering the environmental impact of your unwanted car removal. We are dedicated to providing services that are not only convenient and rewarding for you, but also responsible and sustainable for the environment. Unwanted car removal with strong green credentials Car disposal can have a hefty environmental footprint. At Best Way Car Removal we have a strong community and environmental ethos. As a licensed auto trader and wrecker, we make recycling cars and eco-friendly car disposal pillars of our service.
Get An Instant Quote
Call Bestway Car Removal now to make your free car removal appointment and take the first step toward a clutter-free garage. Our skilled staff is ready to make you an instant cash offer and serve you with hassle-free removal services. Don't put off contacting us today to get top dollar for your old automobile!
Get our instant online cash offer or speak with us direct on phone number anytime, 24/7.
Sometimes there is nothing more to be done for a vehicle than bid it farewell and salvage its parts. Leave this to Best Way Car Removal and claim your no-obligation cash payment for the privilege.