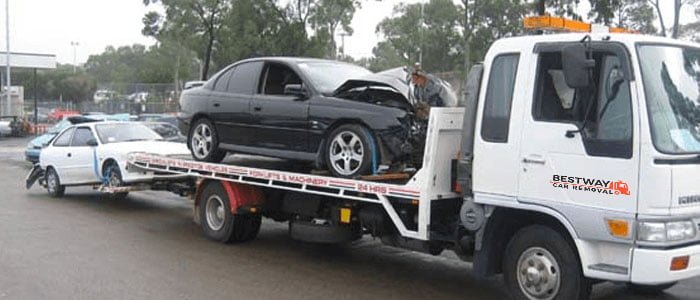 Old car removals can be ever so simple. At Best Way Car Removal we make sure our free removal service is exceptionally rewarding too. We pay you to cash for the privilege of carrying out unwanted car removal. No matter when you need our salvage car removal services, rest assured we are ready, willing, and able to help you. Because at Best Way Car Removal we work 24/7, 365 days of the year.
Need to put an end to old car clutter? Get Best Way Car Removal for old car removal in Geelong, Ballarat, Colac and surrounding areas.
Free car removal of anytime
Our salvage car removals are not filled with red tape or conditions. Best Way Car Removal obliges with free removal no matter what the age, condition or model of your unwanted car. That means you can enjoy an instant cash payment along with free unwanted car removal at your convenience, whether you need:
Scrap car disposal
Damaged car removals
Accident car removals
Irreparable commercial cars
Ute, van, motorcycle or other vehicle removals.
Thanks to our custom unwanted car removal fleet and team of experts, we can offer free removal of any vehicle. You can be sure to achieve optimum cash return on your scrap car because we are a licensed auto trader and wrecker too. Should you wish to deliver your unwanted car to us yourself, that's absolutely fine. You certainly will not forfeit your instant cash payment.
Unwanted car removal with strong green credentials
Car disposal can have a hefty environmental footprint. At Best Way Car Removal we have a strong community and environmental ethos. As a licensed auto trader and wrecker we make recycling cars and eco-friendly car disposal pillars of our service. Our expert dismantlers recycle, reuse, and resell any salvageable parts or materials. So not only do you get the best cash return possible for your unwanted car removals, but the environment will thank you as well.
Swap your unwanted car clutter for cash. Put our instant online cash offer to work anytime 24/7. Or simply give us a call or click here to get an instant quote
Remember, we are available around the clock to bring you free removal of unwanted cars when you need it most.
Get our instant online cash offer or speak with us direct on phone number anytime, 24/7.
Sometimes there is nothing more to be done for a vehicle than bid it farewell and salvage its parts. Leave this to Best Way Car Removal and claim your no-obligation cash payment for the privilege.