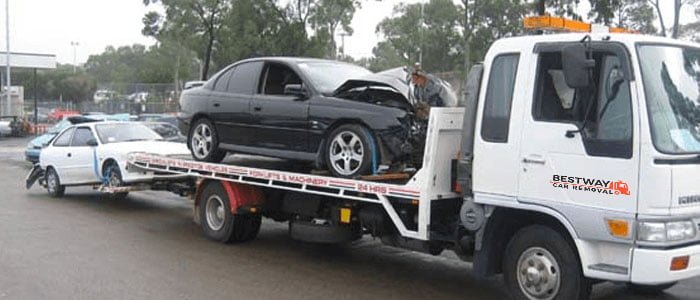 Got an old unwanted vehicle that no longer functions? Is it taking p a lot of room and you have no idea what to do with it? Get rid of your non-operational accident cars with ease and get paid for it too! Accident car removals is the solution you need when your car has been in a crash and is taking up valuable space. Best Way Car Removal offers free car removal services in Geelong, Colac, Ballarat, and surrounding areas. Say goodbye to your ruined car and hello to cash on the spot. Contact us today to experience a hassle-free solution to your accident car woes.
Vehicle owners pick us because:
To free up space on your property
To get rid of a ruined, non-operational vehicle
To receive cash for cars payment on the spot
To have a hassle-free and convenient solution for car removal
Helps reduce environmental impact
Ensures proper disposal of hazardous materials
Offers peace of mind and closure after a difficult experience
When you require accident auto removal, we are here to help.
Convenient 24/7 availability for immediate removal
Same-day service for prompt and efficient solution
Reliable and dependable service, always there when you need us
No hidden fees or charges for our removal services
Top cash payouts for your unwanted or damaged vehicle
Friendly and knowledgeable staff to assist with all your removal needs
Environmentally responsible disposal of your vehicle
Expert handling of all types of vehicle removals, big or small.
End-to-end removal for your accident car
At Best Way Car Removal, we understand that your vehicle may have reached the end of its road due to various reasons – prolonged disuse, missing spare parts, an unfortunate accident, or a mechanical fault. Whatever the case may be, it's essential to have your accident car removed efficiently and effectively, especially since it still incurs costly taxes even though it's no longer operational. That's why we offer hassle-free and convenient accident car removal services that not only free up valuable space but also provide you with cash on the spot. Trust us to take care of everything, so you can focus on what truly matters.
Why Chose Us?
Best Way Auto Removal takes pride in providing complete and competent services, ensuring that every part of your accident car removal is handled. We provide a flawless and stress-free experience with our fully certified vehicle trader, assessor, and wrecker services.
We have years of industry experience and have created a large network of professionals, giving us the competence and understanding to provide you with the finest guidance. Our cutting-edge parts and metal recycling technologies ensure that your wrecked car is disposed of in the most ecologically friendly and effective way possible.
What's more, the best part? We provide cash payouts for accident automobile removal so that you can be fairly compensated for your vehicle. Our services, which include towing, number plate disposal, and all necessary paperwork, are entirely free. You may rely on us to handle everything for you.
Fully licensed auto trader, appraiser and wrecker capabilities
Expert advice based on years of experience and vast industry networks
Advanced parts and metal recycling processes for accident cars
Cash payments upon your accident car removal
Completely free accident car removal, towing, number plate disposal and paperwork.
Our free accident auto removals, along with cash payments, make it an appealing option for getting rid of your non-operational vehicle. We understand the stress of having a wrecked car, which is why we provide 24/7 services and are dedicated to providing a swift and efficient removal process. So, why delay? Request your no-obligation cash offer today, or call us to schedule your accident auto removal. Allow us to assist you in reclaiming vital space and releasing yourself from the burden of your destroyed car.
Get our instant online cash offer or speak with us direct on phone number anytime, 24/7.
Sometimes there is nothing more to be done for a vehicle than bid it farewell and salvage its parts. Leave this to Best Way Car Removal and claim your no-obligation cash payment for the privilege.