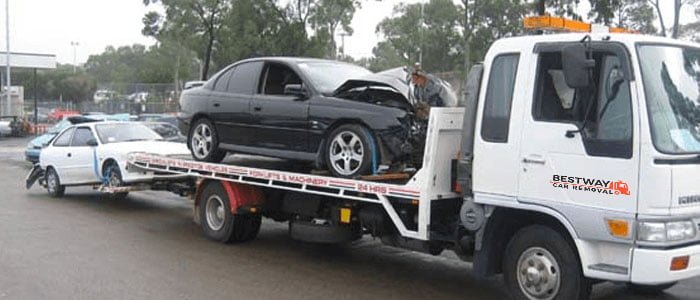 Accident car removals
Accident car removal can be an answered prayer when your vehicle is no longer operational. Why have your accident car rusting and taking up valuable space? Now you can be free of your ruined car courtesy of completely free accident car removals in Geelong, Colac, Ballarat and surrounding areas. Best Way Car Removal will also pay you cash on the spot.
Accident car removal when you need it
At Best Way Car Removal we make our free accident car removals available 24/7. We work 365 days of the year, so we are on-hand whenever you need us. You could have your accident car removals take care of on the same day. All it takes is a call to Best Way Car Removal.
End-to-end removal for your accident car
There are many reasons that a car may become a wreck. Sometimes prolonged disuse can see spare parts rusting beyond repair or perhaps going missing. Other times an accident renders your car a write-off. Maybe you were already considering a new car when your current one developed a fault. No matter what has placed your car in a state of ruin, accident car removal really adds up. Especially when you consider that your accident car still incurs expensive tax even though it is no longer on the road. Best Way Car Removal will scrap or buy your accident car for cash, so you are no longer up for a hefty tax bill. Rely on our:
Fully licensed auto trader, appraiser and wrecker capabilities
Expert advice based on years of experience and vast industry networks
Advanced parts and metal recycling processes for accident cars
Cash payments upon your accident car removals
Completely free accident car removal, towing, number plate disposal and paperwork.
Request our instant free no-obligation cash offer on your accident car now. Or give us a call for more guidance or to arrange your accident car removal.
Get our instant online cash offer or speak with us direct on phone number anytime, 24/7.
Sometimes there is nothing more to be done for a vehicle than bid it farewell and salvage its parts. Leave this to Best Way Car Removal and claim your no-obligation cash payment for the privilege.