At Best Way Car Removal, we understand that life is unpredictable and that's why we offer our exceptional car disposal service around the clock, every day of the year. With 24/7 availability, you never have to worry about finding time to dispose of your unwanted vehicle.
Our instant cash offer is another reason why Best Way Car Removal is the best choice for your car disposal needs. Say goodbye to the hassle of waiting for payment – with us, you'll receive cash on the spot when we pick up your vehicle.
When it comes to car disposal, Best Way Car Removal sets the bar high. Our mission is to provide a hassle-free, efficient and fair solution for anyone looking to dispose of their unwanted vehicle. With our top-notch customer service, friendly team and commitment to excellence, we make car disposal simple and stress-free.
Get an Estimate
Send your details for an instant estimate
Organise Pickup
Book a convenient day
Get Paid Cash
We pay on the spot cash for your car
Fair and Generous Pricing - Cash for Cars
At Best Way Car Removal, we're experts in the car disposal industry, with a deep understanding of the value of different types of vehicles and their parts and materials. Our specialized skills in recycling 4WDs, vans, and utes set us apart from the competition, giving us the ability to provide top-notch appraisals and pay maximum cash for your unwanted vehicle. We're dedicated to providing a seamless and profitable experience for our clients, every time. With all the paperwork requirements sorted, and this simple service, vehicle owners will be at peace of mind.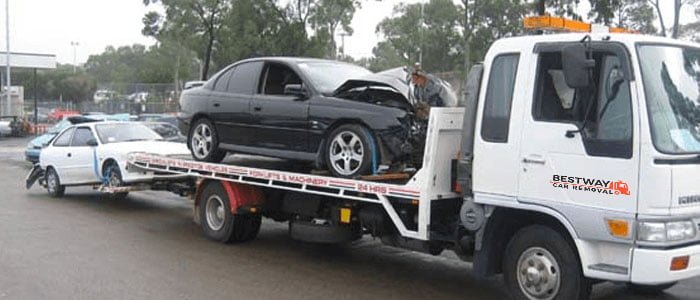 Cash for All Types of Vehicles
At Best Way Car Removal, we understand that having an unwanted vehicle can be a burden. Not only does it take up valuable space, but it can also be an eyesore. That's why we offer free removal for all types of vehicles, including cars, vans, utes, and 4WDs. With our team of experts, you can have peace of mind knowing that your vehicle will be disposed of efficiently and effectively.
Our specialist team is dedicated to providing top-notch service to every customer. Whether you have a car that has reached the end of its life or a van, ute, or 4WD that is no longer needed, we are here to help. With years of experience in the industry, we have the knowledge and expertise to appraise and trade all types of vehicles. Plus, our focus on recycling ensures that your unwanted vehicle will be disposed of in an environmentally responsible manner.
Why Choose Bestway Car Removal?
Bestway Car Removal is the best option for individuals who wish to get rid of their unwanted vehicles quickly and easily. With our 24/7 availability and instant cash offer, you may get rid of your vehicle quickly and receive payment right away. Our experts have years of expertise in valuing and trading many types of vehicles, including cars, vans, utes, and 4WDs. We understand the value of various parts and materials, allowing us to salvage the most value from your vehicle and pay you quick cash in return. We prioritise responsible recycling and disposal of your car to reduce waste in landfills as part of our commitment to sustainability.
Call Us Now
Don't wait any longer, take advantage of our reliable and efficient car removal service now! Contact us at 0476 465 697 or request a quote on our website to experience the best car disposal solution in Geelong.
Get our instant online cash offer or speak with us direct on phone number anytime, 24/7.
Sometimes there is nothing more to be done for a vehicle than bid it farewell and salvage its parts. Leave this to Best Way Car Removal and claim your no-obligation cash payment for the privilege.